Saving You Money on Services
Our military community deserves the best. At Johns Hopkins US Family Health Plan we are always looking for new programs and services that will positively impact your health. As a USFHP member you get access to these programs at a discounted rate. Take advantage of these opportunities today!
Two free dental cleanings each year
Discount on dental services at network dentists* in Maryland, Washington, D.C., Delaware, Pennsylvania, and West Virginia

No premiums
No paperwork or claims to fill out
No deductibles or maximums
No need to select a primary dental office
No referrals required to see a specialist
*Note: the discount on dental services is not available at network dentists in Virginia at this time.
For more information, visit the United Concordia "Clients' Corner" page.
One routine eye exam per year, which includes refractions and written lens prescriptions, from a designated plan provider
Call USFHP Customer Service at 1-800-808-7347 or search for an eye care facility near you.
Note: diagnosis and treatment of eye disease is covered in the same manner as any other medical specialty care and requires a referral from your primary care provider (PCP).
Non-covered services:
Corrective lenses, frames, contact lenses and contact lens fittings are not covered.
Corrective vision surgery is not covered [e.g., laser-assisted in situ keratomileusis (LASIK), radial keratotomy, photo refractive keratectomy (PRK), etc.].
Vision discounts:
20% discount on any pair of lenses and frames
5% discount on contact lenses
Discounts apply at all Wilmer Optical Shops and Superior Vision (formerly Block Vision) locations.
LASIK AT WILMER
$400 discount on laser vision correction services on both eyes when performed by a member of the full-time faculty of the Johns Hopkins Wilmer Eye Institute
For more information or to schedule an appointment, call one of our laser vision centers.
Green Spring Station:  410-583-2800
Bel Air: 410-893-0480
We've partnered with the Johns Hopkins University Department of Gynecology & Obstetrics, Division of Reproductive Endocrinology & Infertility to offer our members a comprehensive program of assisted reproductive technologies for the treatment of infertility.
Diagnostic services are covered
Discount is offered for all IVF (in vitro fertilization) and IUI (intrauterine insemination)
If you are interested in IVF or IUI procedures, you will need to get a referral from your PCP or OB provider.  An initial appointment can be made in approximately 10 days from referral by calling: 410-616-7140.
$500 discount on any procedure including anti-aging procedures, such as face lifts and rhinoplasty or nose jobs
15% discount on injectables including Botox
Discounts are offered by Dr. Byrne, Dr. Lisa Ishii, and Dr. Kofi Boahene at the Center for Facial Plastic and Reconstructive Surgery at Johns Hopkins.
Note: discounts apply to physician fee only. Hospital fees are not discounted due to Maryland regulations.
To request an appointment or to get more information about the Johns Hopkins Center for Facial Plastic and Reconstructive Surgery at Green Spring Station, call 410-955-4985.
TRICARE offers a special program, the Extended Care Health Option (ECHO), to provide financial assistance for qualifying military beneficiaries who have been diagnosed with moderate or severe intellectual disability, a serious physical disability, or an extraordinary physical or psychological condition.
Some examples of qualifying conditions include:
Diagnosis of a neuromuscular developmental condition or other condition in an infant or toddler expected to precede a diagnosis of moderate or severe mental retardation or serious physical disability
Extraordinary physical or psychological condition causing the beneficiary to be homebound
Moderate or severe mental retardation
Multiple disabilities (may qualify if there are two or more disabilities affecting separate body systems)
Serious physical disability
The ECHO program's coverage includes:
Assistive services (e.g., those from a qualified interpreter or translator)
Durable equipment, including adaptation and maintenance
Expanded in-home medical services through TRICARE ECHO Home Health Care (EHHC)
Medical and rehabilitative services
In-home respite care services (can only be used in a month when at least one other ECHO benefit is being received):

ECHO respite care—up to 16 hours per month (limited to the 50 United States, the District of Columbia, Puerto Rico, the U.S. Virgin Islands and Guam)
EHHC respite care—up to eight hours per day, five days per week for those who qualify Note: The EHHC benefit cap is equivalent to what TRICARE would reimburse if the beneficiary was in a skilled nursing facility

Training to use assistive technology devices
Institutional care when a residential environment is required
Special education (which can include applied behavioral analysis)
Transportation under certain limited circumstances (includes the cost of a medical attendant when needed to safely transport the beneficiary)
ECHO benefits, services, and supplies are not available through the basic Johns Hopkins USFHP. All ECHO services require pre-authorization through Johns Hopkins USFHP Care Management.
To enroll in the ECHO program, you must currently be a member of Johns Hopkins USFHP, be enrolled in the Exceptional Family Member Program (EFMP) of their branch of service, and provide medical documentation that a qualifying condition exists. USFHP will grant provisional ECHO enrollment (for 90 days) while the sponsor completes the EFMP forms.  Upon receipt of the application and documentation, members will receive a decision letter with their eligibility status.
For general questions, potential ECHO enrollees or family members may call Johns Hopkins USFHP customer service at 410-424-4528 or 1-800-808-7347. We also have a dedicated ECHO Care Coordinator who can answer more detailed questions regarding the eligibility and enrollment process.
Discount: A full-year subscription for just $39!
We are excited to offer you BurnAlong, a program that can help you achieve your best health and fitness! BurnAlong offers more than 1,000 classes in 30 categories, including cardio, mindfulness, nutrition, and physical therapy. Take classes with local and national instructors, tailored to your skill level, on your own schedule. You can stream classes on your own or with friends, on your computer, tablet, phone, or casting it to your T.V.—whatever works best for you. All of this is available to Johns Hopkins USFHP members for $39 for an entire year!
Steps:
Put in your information and select annual plan.
Put in discount code M39JH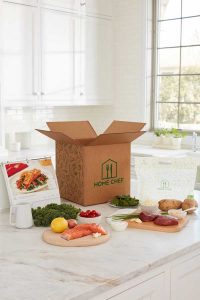 Discount: $35 off your first order!
Do you enjoy preparing home-cooked meals, but can't always find the time? Home Chef makes it easy to cook delicious, healthy meals for your family. Starting at $7.99 per serving, you choose a meal, and Home Chef delivers the fresh, pre-portioned ingredients to your home. No shopping and very little prep work required. The recipes are easy to follow, so you can create and plate a tasty dinner in about 30 minutes. Choose from 18 meal options every week, including steak, chicken, pork, fish, and vegetarian dishes.
Use this discount: Enter the code USFHP35 at checkout, or click here to automatically apply the discount.