We're Hiring!
Are you an active-duty family member or a military retiree/spouse who is already a member of our plan? USFHP is seeking a customer-focused, Military Base Command relationship builder to join our team as a part-time Field Sales Representative for our Northern Virginia region. Major responsibilities include:
providing information about USFHP in various settings to educate DEERS-eligible TRICARE military health system beneficiaries
interfacing with key military and military-related organization contacts to set up meetings and events
establishing and maintaining ongoing relationships with health care and community/family support/retiree activities coordinators
To inquire about this position and/or apply, please contact the Johns Hopkins USFHP Sales Manager, Tony DiBuccio, at 410-590-4014 or adibuccio@jhhc.com.
Protect Yourself from the Flu This Season
The flu—an infection that can cause fever, cough, body aches, and other symptoms—is especially widespread this season. Fortunately, getting a flu shot now can still help you avoid the flu. The flu vaccine can also help keep you from becoming severely ill if you do get the flu.
You cannot get the flu from a flu vaccine: in fact, getting the vaccine every year is your best protection against the flu. A flu vaccine contains pieces of dead flu viruses which help your body arm itself against the actual flu. Some people have mild symptoms for a day or two after getting the flu shot, but the real flu is much worse. If you have not been vaccinated for this flu season, get the shot as soon as possible.
If you are already sick with the flu, stay home, rest, and drink plenty of fluids. Don't go back to work or school until your fever has been gone for at least 24 hours without medicine. More information about the flu.
Walgreens Acquisition of Rite Aid
Walgreens will acquire a large number of Rite Aid locations throughout the country. Johns Hopkins has partnered with Walgreens to ensure that USFHP members can continue to fill their prescriptions at Rite Aid pharmacies that have converted to Walgreens. This change is only applicable to Rite Aid pharmacies that have converted to Walgreens and not applicable to other Walgreens pharmacies. Members will be advised in due course of future changes to the pharmacy network. You may contact our customer service unit at 410-424-4528 or 1-800-808-7347 if you need assistance identifying a network pharmacy.
Find Us on Facebook @JohnsHopkinsUSFHP
Interact with your local military community—Like and follow us on Facebook for family resources, industry updates, health and wellness tips, and more: facebook.com/JohnsHopkinsUSFHP.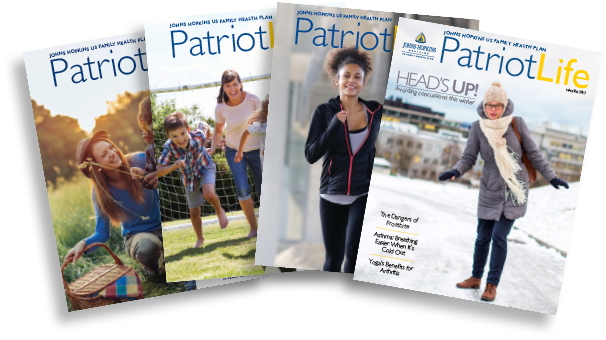 "Patriot Life"
Check out our newsletter, where you'll find preventive care information, USFHP benefits in action, and feature stories about our great members and staff!