November is Military Family Appreciation Month – THANK YOU!
Here at Johns Hopkins US Family Health Plan, we understand military families and retirees. Amid the COVID-19 pandemic, having to cope with the absence of a deployed loved one is an additional hardship. We know that military families make this sacrifice all the time, and this unfailing love and support is what enables your loved one to pursue their noble calling to serve our country. You are strong, brave, and adaptable. Your patriotism and courage are equal to that of our service members. The efforts and sacrifices you make to hold down the home front, relocate for your loved one's career, and take on extra burdens do not go unnoticed. You deserve the very best, and we are privileged to offer you the best health care coverage possible. For Military Family Appreciation Month, as with all year round, we just want to say thank you for all that you do.
Protect Yourself from the Flu This Season
The flu is an infection that can cause fever, cough, body aches, and other symptoms. Getting a flu shot now can help you avoid the flu. The flu vaccine can also help keep you from becoming severely ill if you do get the flu.
You cannot get the flu from a flu vaccine: in fact, getting the vaccine every year is your best protection against the flu. A flu vaccine contains pieces of dead flu viruses which help your body arm itself against the actual flu. Some people have mild symptoms for a day or two after getting the flu shot, but the real flu is much worse. If you have not been vaccinated for this flu season, get the shot as soon as possible.
If you are already sick with the flu, stay home, rest, and drink plenty of fluids. Don't go back to work or school until your fever has been gone for at least 24 hours without medicine. Learn more about the flu.
Coronavirus (COVID-19) and the flu
This year, continue to protect yourself from both coronavirus (COVID-19) and the flu. COVID-19 and the flu have similar symptoms, but are caused by different viruses.
Getting the flu vaccine this year will be more important than ever. There will be plenty of flu vaccines available. If you don't catch the flu, you can't get very sick from flu complications — and you can't spread it to anyone else. The more people who get the vaccine, the better everyone is protected, especially those who can't get the vaccine (including babies under 6 months and people allergic to the vaccine).
The flu vaccine will not protect you against COVID-19, but it can protect you from getting the flu and against major flu complications. That immune system protection is critical, especially if you do contract COVID-19. To protect yourself and others, continue to stay 6 feet away from others, wear a mask in public, and wash your hands often. Learn more about COVID-19 and the flu.
Getting Your Flu Shot
Get your flu shot at your primary care manager (PCM)'s office or at select Walgreens pharmacies. If you choose a Walgreens in our vaccine network, call first to make sure there is a flu vaccine in stock for you.
To check if a Walgreens location is in the USFHP pharmacy vaccine network, login to caremark.com, click "Find a Store," and then search for your local pharmacy. Vaccine services will be listed under "Pharmacy Services" if they are available.
TYA Plan Monthly Rate Change
The Defense Health Agency has notified us of a change to the TRICARE Young Adult (TYA) Plan monthly rate for plan year 2021. Effective Jan. 1, 2021, the rate will increase from $376 per month to $459 per month. TYA rates are paid a month in advance, so members will be charged with this rate for the first time on Dec. 15, 2020.
Questions? Call our Premium Billing Specialists at 410-424-4835 or toll free at 888-717-8282.
New Claims Reimbursement Webform
Here at USFHP, we always work to improve your experience with us. We have simplified the Claims Reimbursement Form. This form is now fillable, and can be submitted and tracked online. No download, fax, or mail necessary — do it all in one step online! Just login to your HealthLINK portal, (or create an account if you don't have one yet), click "Claims Reimbursement Form" under the "My Health Plan" tab, click "Member Reimbursement Form" and fill it out. Be sure to enter in all the required information and attach proof of payment information to ensure timely processing. We have also created a step-by-step guide to help you.
Help Fight COVID-19 – Donate Plasma
If you tested positive and recovered from COVID-19, you may be able to help treat future patients. Authorized by the Food and Drug Administration, convalescent plasma can be used as an investigational treatment for patients with moderate or severe COVID-19 infection. The Department of Defense is hoping to collect more than 10,000 units of COVID-19 convalescent plasma by Sept. 30. Learn more about eligibility requirements and where to find a local Armed Services Blood Program center for your donation.
Information on Coronavirus (COVID-19)
Since December, when a new strain of coronavirus (COVID-19) was identified in Hubei Province, China, we at Johns Hopkins US Family Health Plan have monitored the situation closely. We want to make sure you have accurate information, know what to expect, and are empowered to care for your own and your family's health.
Updates
On March 5, 2020, Maryland Governor Larry Hogan confirmed three cases of coronavirus in Montgomery County. Read more about coronavirus.
Please visit the Centers for Disease Control and Prevention (CDC) website to keep up with the latest details, travel guidelines, and general information about COVID-19.
New Pharmacy Copays Effective Jan. 1, 2020
The Defense Health Agency has notified us of changes to prescription drug costs for plan year 2020. Effective Jan. 1, 2020:
Mail-Order Pharmacy (Home Delivery) – 90-day supply
Generic drug copay: increase from $7 to $10
Brand-name drug copay: increase from $24 to $29
Non-formulary* copay: increase from $53 to $60
Walgreens Pharmacy – 30-day supply
Generic drug copay: increase from $11 to $13
Brand-name copay: increase from $28 to $33
Non-formulary* copay: increase from $53 to $60
*Non-formulary means that the drug is not on TRICARE's list of fully covered medications.
Thank you for understanding as we implement these DHA changes for plan year 2020.
Address Change for Johns Hopkins USFHP
Johns Hopkins US Family Health Plan (USFHP) has a new address. Please note the following important changes.
New address:
7231 Parkway Dr.
Suite 100
Hanover, MD 21076
We will be combining our Enrollment and Premium Billing PO Boxes. Please use the following PO Box for both:
PO Box 8689
Elkridge, MD 21075
Thank you for your cooperation.
Time is Running Out: Switch to Walgreens!
On Jan. 1, 2019, Rite Aid will leave our pharmacy network and Walgreens will become Johns Hopkins USFHP's exclusive pharmacy provider. After Dec. 31, 2018, we will no longer provide coverage for prescriptions filled at Rite Aid Pharmacies. If you are still using Rite Aid for your prescriptions, you will need to transfer these to a Walgreens pharmacy.
Act now! Four ways to transfer your prescriptions to Walgreens:
Phone: Call your local Walgreens
Online: Create an account at Walgreens.com and enter your prescription number.
In Store: Bring in your prescription bottle and insurance card.
Mobile App: Scan your prescription bottle and insurance card.
Premium Billing TYA Rate Change
USFHP Adds Walgreens to Your Network
We have some exciting news regarding your pharmacy network! Johns Hopkins US Family Health plan has added all Walgreens pharmacies to your network—that's 8,100 locations and growing. In addition to convenient locations, Walgreens has many digital tools to help you manage your medication and easily refill prescriptions. Beginning July 1, you may begin using any Walgreens to fill your prescriptions.
Here are some other important announcements and reminders:
You should have received a new member ID card as a result of this pharmacy network change. Please use the new card and discard the old one. If you have not received your new card, contact [best number].
Online coordination of benefits for pharmacy coverage will be available soon. If you have prescription coverage through another health insurance plan, your pharmacist will soon be able to submit your prescription online to both plans at the same time.
We will end our partnership with Rite Aid on 12/31/2018. Before this date, if you are still using Rite Aid for your prescriptions, we will contact you to help you find a convenient Walgreens.
Again, we have added all Walgreens pharmacies to your network, and you may begin using any Walgreens on July 1. Remember that hundreds of former Rite Aids that converted to Walgreens are included—these stores may still have Rite Aid signage.
If you have any questions about this information, please call Customer Service at 800-808-7347.
Find Us on Facebook @JohnsHopkinsUSFHP
Interact with your local military community—Like and follow us on Facebook for family resources, industry updates, health and wellness tips, and more: facebook.com/JohnsHopkinsUSFHP.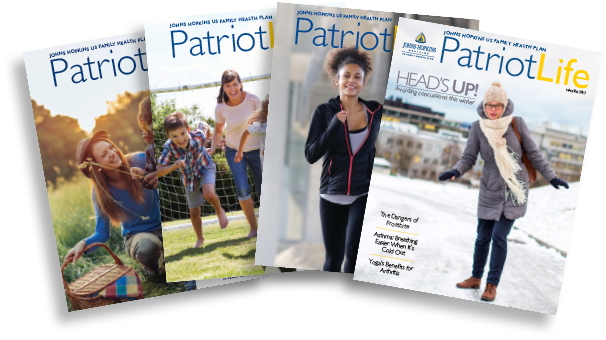 "Patriot Life"
Check out our newsletter, where you'll find preventive care information, USFHP benefits in action, and feature stories about our great members and staff!