Join us for a Webinar on TRICARE's Open Season
Starting this year, TRICARE has changed the way that eligible members enroll in a health plan. Each fall, TRICARE will have an annual enrollment period called Open Season. This will be the time when eligible members select their TRICARE option for the following year.
This year, Open Season will be held from November 12 to December 10. Current members of the Johns Hopkins US Family Health Plan will not need to take any action. We will automatically re-enroll you for the upcoming year.
We realize that a change such as this may cause some confusion. To explain Open Season in more detail and to answer any of your questions, we are hosting a webinar on Wednesday, Oct. 17 at 6 p.m. The webinar will feature Steve Whisler, Johns Hopkins USFHP's Manager of Military Relations and Field Services.
Click here to sign up for a reminder to watch the webinar.
USFHP Adds Walgreens to Your Network
We have some exciting news regarding your pharmacy network! Johns Hopkins US Family Health plan has added all Walgreens pharmacies to your network—that's 8,100 locations and growing. In addition to convenient locations, Walgreens has many digital tools to help you manage your medication and easily refill prescriptions. Beginning July 1, you may begin using any Walgreens to fill your prescriptions.
Here are some other important announcements and reminders:
You will soon receive a new member ID card as a result of this pharmacy network change. Please begin using this new ID card once you receive it.
Online coordination of benefits for pharmacy coverage will be available soon. If you have prescription coverage through another health insurance plan, your pharmacist will be able to submit your prescription online to both plans at the same time.
We will end our partnership with Rite Aid in the coming months. Before Rite Aid leaves our network, we will contact you if you are still using Rite Aid for your prescriptions. We will help you find a convenient Walgreens.
Again, we have added all Walgreens pharmacies to your network, and you may begin using any Walgreens on July 1. Remember that hundreds of former Rite Aids that converted to Walgreens are included—these stores may still have Rite Aid signage.
If you have any questions about this information, please call Customer Service at 800-808-7347.
Protect Yourself from the Flu This Season
The flu—an infection that can cause fever, cough, body aches, and other symptoms—is especially widespread this season. Fortunately, getting a flu shot now can still help you avoid the flu. The flu vaccine can also help keep you from becoming severely ill if you do get the flu.
You cannot get the flu from a flu vaccine: in fact, getting the vaccine every year is your best protection against the flu. A flu vaccine contains pieces of dead flu viruses which help your body arm itself against the actual flu. Some people have mild symptoms for a day or two after getting the flu shot, but the real flu is much worse. If you have not been vaccinated for this flu season, get the shot as soon as possible.
If you are already sick with the flu, stay home, rest, and drink plenty of fluids. Don't go back to work or school until your fever has been gone for at least 24 hours without medicine. More information about the flu.
Walgreens Acquisition of Rite Aid
Walgreens will acquire a large number of Rite Aid locations throughout the country. Johns Hopkins has partnered with Walgreens to ensure that USFHP members can continue to fill their prescriptions at Rite Aid pharmacies that have converted to Walgreens. This change is only applicable to Rite Aid pharmacies that have converted to Walgreens and not applicable to other Walgreens pharmacies. Members will be advised in due course of future changes to the pharmacy network. You may contact our customer service unit at 410-424-4528 or 1-800-808-7347 if you need assistance identifying a network pharmacy.
To search for your pharmacy, open the PDF and hold Ctrl + F on Windows or Command + F on Mac. Insert the street, city, county or state abbreviation and press Enter.
Find Us on Facebook @JohnsHopkinsUSFHP
Interact with your local military community—Like and follow us on Facebook for family resources, industry updates, health and wellness tips, and more: facebook.com/JohnsHopkinsUSFHP.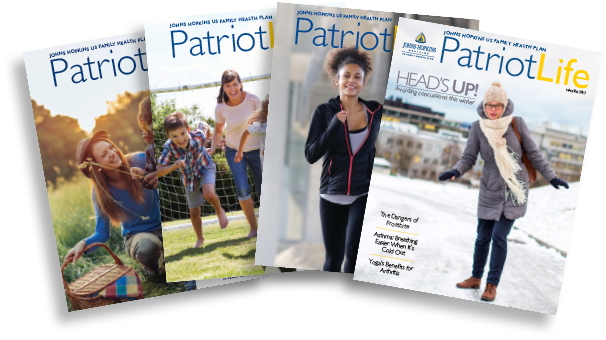 "Patriot Life"
Check out our newsletter, where you'll find preventive care information, USFHP benefits in action, and feature stories about our great members and staff!